Breaking the Boredom was the name of a record label owned by Sparkles*. Everything from Harry's Happy Pumpkins to Ghost Cassette up to Blackline was released under this title. After that, Area 11 has been using Smihilism Records.
BTB also released a compilation album containing a track by SPARKLES titled 'Bad Time Baby'.
Archived Website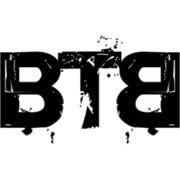 This website
contains many old videos by Sparkles*, at the time of
Ghost Cassette
.
Spreadshirt Page
There was a BtB Spreadshirt page, where various garments can be obtained:
Men's Hoodie "Sparkles 13" --> £24.70
BTB T-Shirt "BTB"              --> £11.10
White Thong "BTB"             --> £11.00
5 Black Badges "BTB"        --> £5.20
An archive of the BTB website contains a picture of relations of BTB wearing such merchandise.
Ad blocker interference detected!
Wikia is a free-to-use site that makes money from advertising. We have a modified experience for viewers using ad blockers

Wikia is not accessible if you've made further modifications. Remove the custom ad blocker rule(s) and the page will load as expected.